What is hydromulch?
Hydromulch is the ultimate stress-free solution for commercial project sites when it comes to promoting economic and environmental
sustainability. In short, hydromulch solutions exist to speed up the process of seeding and growing plants in areas where the soil has
been disturbed, eroded, or depleted over time.
It is a vegetation process that involves spraying a slurry of water, seed, fertiliser, thermally processed natural fibre mulch and a binder or
tackifier on damaged and depleted soils to provide fast, economical and efficient revegetation. These solutions are designed to mould to
the contours of the surface and create immediate temporary coverage for soil and seeds.
---
How is hydromulch applied?
Hydromulch can be applied in just one step by spraying the ground with a slurry of water, fertiliser, seeds and mulch. This is done on a
specially designed hydromulching truck or via aerial application when access is a challenge. In most cases, a hydromulching truck is
considered the best application method.
As part of this process, the truck agitates the thick slurry of water, seed, fertiliser, straw mulch and a binder or tackifier throughout
the mixing and application process, ensuring the seed fertiliser, fibres and binders are mixed evenly and remain in suspension and spray evenly onto the ground.
This application method works at a minimum rate of 2.5 tonnes per hectare, targeting 100 per cent soil-surface coverage and ensuring
that the applied seed is protected and the risk of erosion is minimised.
Hydromulching application equipment has the ability to spray the slurry over a distance of up to 100 metres, enabling effective
application on even the most difficult sites. The included polymer system ensures the hydromulch slurry adheres to even the steepest of
slopes, holding it there until the vegetation establishes.
How much does hydromulch cost?
As with most revegetation products, the cost of hydromulch is variable depending on the soil test data, the seed blend required and the
type and rate of application of the hydromulch slurry. As a general rule, the cost per square metre can vary from $1.00 up to $5.00.
---
How do I select the right hydromulch for my commercial site?
Selecting the right hydromulch for your commercial site is a process that begins with thorough evaluation. The soil type, slope angle,
climatic conditions and the type of plants being sown all need to be taken into consideration.
Soil type
There are many different types of soil, each with its own challenges. Understanding which type of soil you're dealing with is the key to effective hydromulch application, and also affects the types of plants you can grow.
Slope angle
Hydromulch application is only effective on a well-prepared soil surface. This can be much harder to achieve on a steep gradient than a patch of flat earth, and additional soil treatments may be needed on particularly steep slopes.
Climatic conditions
Many parts of Australia are famous for their hot, dry climate. A combination of drought and strong winds can dry soil out, reduce soil stability and affect plant growth.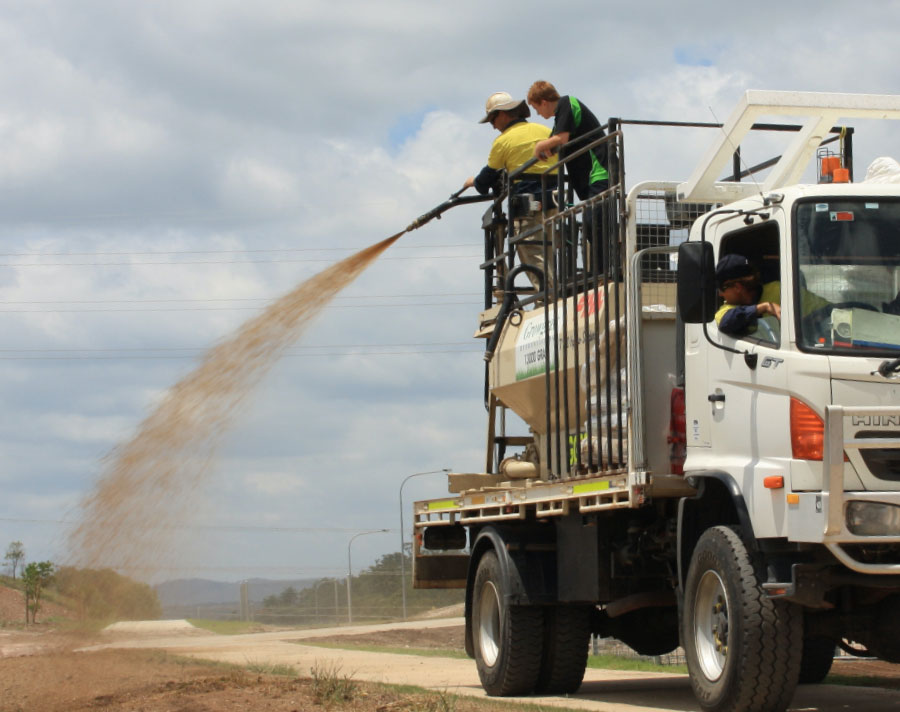 EnviroStraw offers a product range that includes revegetation solutions to suit a wide range of conditions, as well as the application
expertise you need to get the best possible results.
What other factors should I consider when choosing
the right hydromulch solution?
The main factors to consider when choosing a hydromulch product include your desired outcomes and the environmental impact of
the product in question.
Environmental impact
Water use and water efficiency are hugely important considerations when selecting a hydromulch solution. How much water is needed typically comes down to the make-up of the product. Products manufactured from straw typically require less water to apply, which improves on-site efficiencies and reduces CO2 emissions.
Desired outcomes
Any project that concerns your property demands the answer to one question: what is your goal? You may want to sow and grow more native plant species, or simply get erosion under control on your property. In any case, it's always best to use Australian-made products so that you can ensure consistent supply and support local communities.
The best hydromulch products in Australia
EnviroStraw is proud to offer proven vegetation solutions developed
by Australia's leading soil scientists and agronomists. Our award-
winning products are made in Australia from locally-sourced
materials. We pride ourselves on delivering consistent results and
ongoing growth for our clients and, most importantly, restoring the
environment to its most natural state.
Looking for a hydromulch product to create some serious growth?