Envirobond
For a superior soil stabiliser, mulch binder and dust suppressant, choose EnviroBond for your next project with a C-factor as low as 0.001 you can be assured Envirobond will stop the erosion in its tracks. EnviroBond can be mixed with water in any proportion and applied via water truck and guaranteed to not harm pump seals, in accordance with the soil structure, gradient and area of terrain to be treated. Designed to penetrate and bind to soil, EnviroBond produces a three-dimensional honeycomb matrix throughout the topsoil layer – ensuring the soil remains permeable and the soil structure is maintained – enhancing seed germination and minimising erosion from rain drop impact and overland flow. Non-toxic, biodegradable and easy-to-use, EnviroBond is proven to work – time and time again and has been independently lab tested.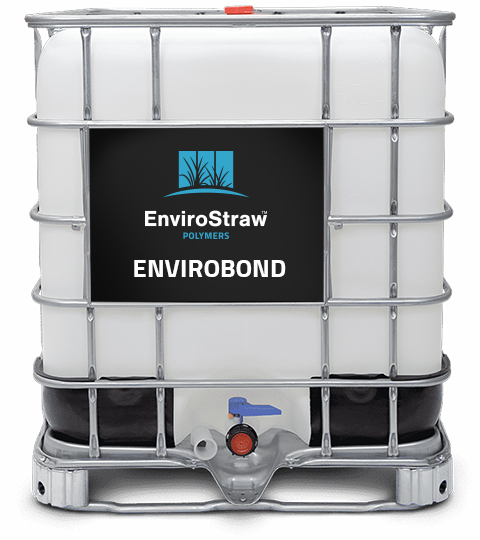 Benefits
Application Considerations
Application Guidelines
Seed protection and germination
Wind erosion and dust suppression
Cost effective
Biodegradable
Low eco-toxicity
Enhanced soil permeability
Water and nutrient retention
High performance mulch binder soil stabilise
EnviroBond is diluted 1:10 in water prior to application. (The minimum recommended application rate for soil stabilisation is 700 kgs per hectare rate at 1 litre of diluted product per m² dependant on climatic conditions and soil type.)
For effective soil penetration and binding EnviroBond should be applied in dry weather conditions and to dry topsoil only, allowing sufficient time for the treated surface to dry and form a protective matrix.
Soil penetration of EnviroBond (especially in hydrophobic soils) will be improved by pre-treatment with a suitable wetting agent. The target soil penetration depth is a minimum 3-5mm, soil penetration can be improved by increasing the application rate from 1 litre m2 to 2 litre m2 of the diluted EnviroBond product.
In applications exposed to heavy (monsoonal) rainfall, an additional 250 kg rate of EnviroBond per hectare is recommended.
High strength surface reinforcement can be achieved by a second follow-up application of concentrated (1:5 dilution) EnviroBond.
Note: Excessive application may lead to retardation of seed germination.
EnviroBond may be mixed with water in any proportion and in accordance with the soil structure, gradient and area of terrain to be treated.
The penetration depth and binding attributes of EnviroBond are dependent on the type and structure of soil, product application rate and the dilution factor employed.
It is recommended that all treatment regimens be determined empirically and after considering specific soil attributes and the intended purpose.
EnviroBond may be applied by using any suitable ground based or aerial liquid application equipment. Application equipment should be flushed with clean water after use.
EnviroBond is non-toxic, biodegradable safe and simple to use. The Material Safety Data Sheet should be consulted prior to use.