Hydromulch Range Overview
The EnviroStraw range of Hydromulch products consists of three revegetation solutions. Each one is designed to enhance vegetation establishment on the steepest, most challenging sites.
Hydraulic Growth Media Applications/Seeding
Hydraulic Growth Media Products (HGM's) are engineered mulch applied to slopes to reduce soil erosion while assisting in the establishment and growth of vegetation. An alternative to temporary Erosion Control Blankets (ECBs), hydraulically applied products can be installed up to three times faster using one-third the manpower.
EnviroStraws HGM's are applied in a one-step application with seed and fertilizer, and tackifier with the potential for quicker installation and project cost savings compared to products requiring a two-step application. With our selection of EnviroStraw Systems, we can help you comply with project guidelines targeting the desired outcome of any project.
A product for every site
EnviroStraw knows one size does not fit all, so our line up of 3 Hydraulic Growth Media products are designed to suite a wide variety of site characteristics and requirements. Our certified Erosion Specialists can assist you in choosing the right product for your site to help you comply with the Australian Environmental Protection Agency (EPA) and other industry regulations. When it comes to specifying Hydraulic Erosion Control Products HECPs, writing specifications based on proven product performance is the only way to truly feel confident that your project will get the protection it needs. Choose only HECPs that form the building block of green engineering by incorporating high-performance soil protection and vegetation establishment while remaining environmentally friendly. You will find that EnviroStraw systems have a solution for your site.
---

Hydraulic Growth Medium
A hydromulch that includes a biotic soil amendment and our agronomically designed soil
conditioner, providing the perfect environment for establishing vegetation.
---

Hydraulic Growth Medium + Bonded Fibre Matrix
Hydromulch with added binders designed for steeper slopes. Biologically activated
with 22 different species of soil enhancing bacteria and mycorrhizae fungi.
---

Erosion Control Matrix
Designed for low carbon soils, Erosion Control Matrix helps rebuild disturbed soils, increase
soil carbon and improve soil health. Ideal for revegetating all areas including extreme slopes.
Benefit
Encourages a strong root system

Faster and Requires less water than standard hydromulch

Weed, pest and pathogen free

Contains built-in nutrients for sustainable growth

Won't pollute waterways

Proven to work in the harshest conditions

Australian owned and manufactured

Environmentally friendly
Soil Food Web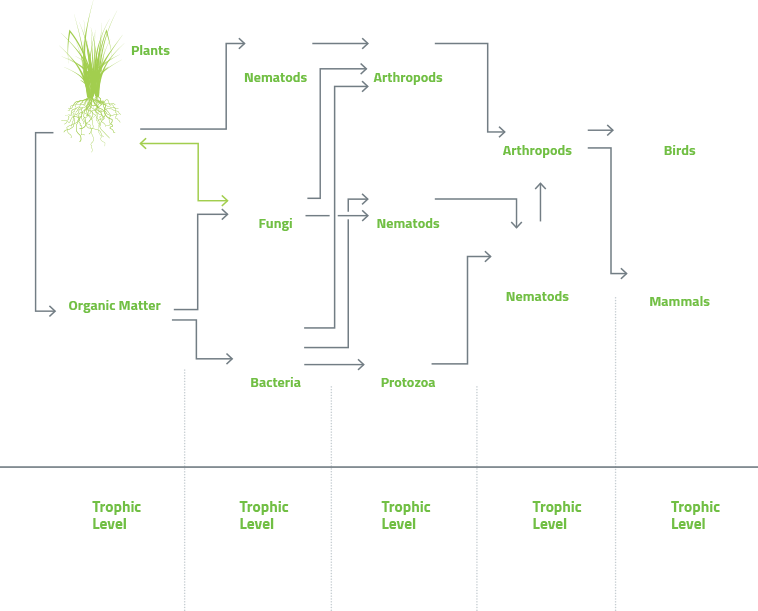 What creates healthy soil?
Soil scientists and microbiologists have discovered that a community of bacteria, fungi and other microbes exists in symbiosis with the root hairs of plants.
Our hero hydromulch EnviroMatrix ECM initiates the development of healthy soil through a combination of the essential elements that make up robust topsoil.
EnviroMatrix ECM conditions the soil via a delicate blend of essential fungi, bacteria and natural minerals. This helps rebuild topsoil and soil health by mimicking the natural Soil Food Web.
Find Out More