The EnviroStraw difference – the benefits of Australian made revegetation solutions
Australian grown ingenuity and tenacity is proving its worth for those needing to revegetate commercial and civil sites. EnviroStraw had humble beginnings, but a big idea and a passion for doing things differently has seen it grow into an Australian success story proving you can find world-leading, proven revegetation solutions right here at home.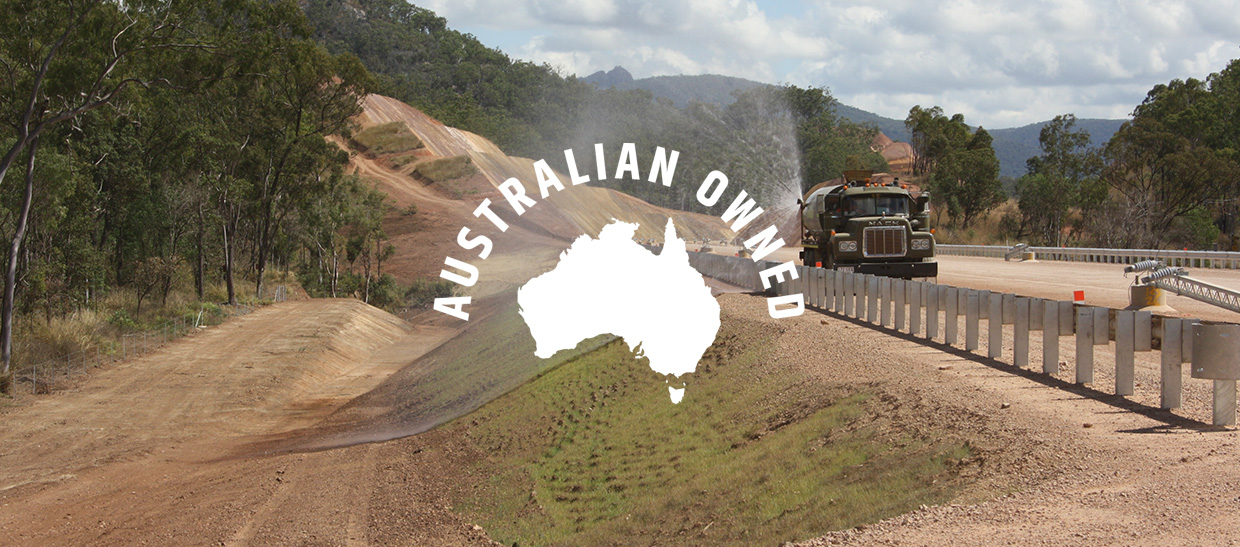 From humble beginnings to world-class provider
EnviroStraw was founded after the devastating Queensland floods of 2011 with a driving ambition to use only Australian renewable resources and support local jobs. That focus on providing high quality revegetation products created right here in Australia has paid off.
EnviroStraw is now the in-demand provider of advanced revegetation solutions for mine sites, commercial developments and infrastructure projects. Our products and innovative programs transform highly disturbed soils into lush, green grass quickly and cost-effectively all while supporting Australian farmers, workers and communities.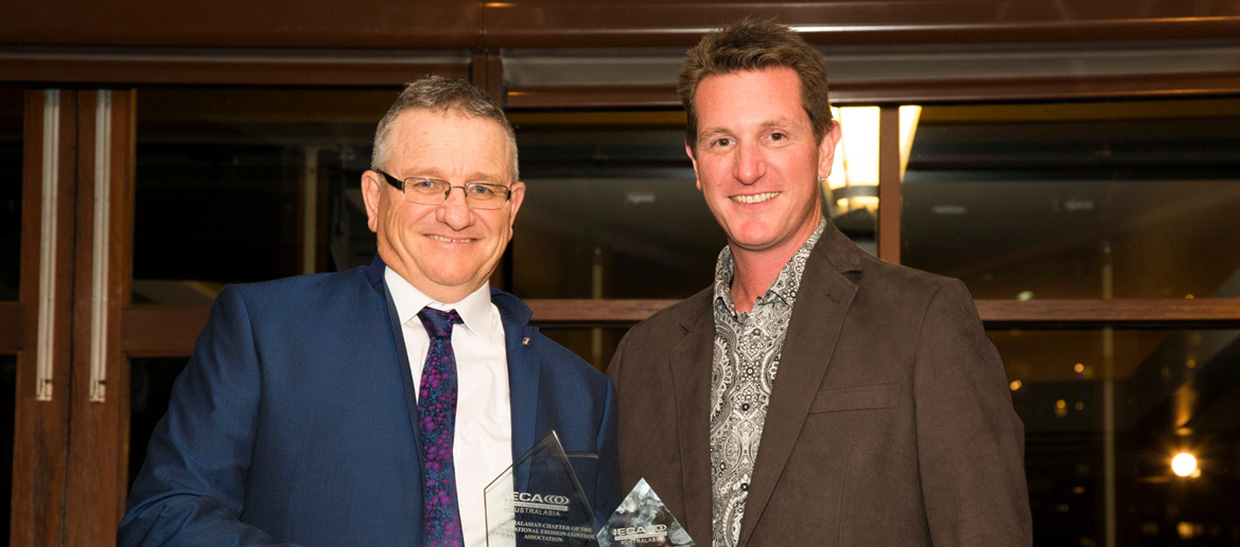 Peter Carmichael receives Excellence In Innovation award from the International Erosion Control Association
A challenging road to success
It wasn't all smooth sailing to get to where we are today but those challenges have taught us valuable lessons and helped us find solutions that are setting a new standard in our industry.
The first obstacle was the long search for the right mechanically and thermally-processed fibre material to make our Hydromulch. The easy route would have been to just import product from overseas but we stuck to our commitment to Australian-made. We found the perfect straw cubes in Yarrawonga in rural Victoria, working hard to hone the production process with our manufacturing partner.
After much trial and error with the packaging for our products, we also decided to invest in our own baling equipment. This has meant we deliver a consistent package every time to our clients eliminating any contamination issues.
When it came to the binders and tackifiers that hold our Hydromulch products on the ground, traditional methods weren't working so we designed our own. We tried countless formulas until we came up with the ideal binder and now our Hydromulch stays where it is sprayed.
This determination to find Australian-grown solutions has resulted in EnviroStraw's range of Hydromulch products and innovative programs meeting and exceeding world-class standards. We regularly send shipments to international buyers in China and Papua New Guinea as well as our domestic clients.
The benefits of supporting Australian-made
In an industry which is seeing increased competition from international products, EnviroStraw stands out as a wholly Australian-owned and operated leader in the revegetation field. We employ Australian workers, we only use Australian renewable resources bought from Aussie farmers and our products are made in rural Victoria.
We all know the trials Aussie farmers are facing whether it's severe drought, bushfires or floods. Being able to back farmers at such a challenging time is incredibly important to the team at EnviroStraw. It makes us proud to know that we buy the crops of Aussie farmers and that by manufacturing our products in rural Victoria we're in turn supporting the local community.
Home-grown expertise that works
By working with an Australian-owned company, our clients are supporting Australian jobs and the use of Australian renewable resources. That means little however unless your product really works. And EnviroStraw's range of revegetation solutions are proven to achieve superior results even in the extremely challenging Australian environment.
It's incredibly satisfying to watch grass grow in what seemed like impossible conditions. EnviroStraw teamed up with one of Australia's leading microbiologists and soil scientists to set this new standard in revegetation. Some examples of this include:
our BioGrowth system which rehabilitates highly disturbed and damaged soils with minimum effort and cost;
our non-watering program which saves project owners substantial sums of money; and
our GeoSpray product which stops erosion in its tracks for extended periods of time.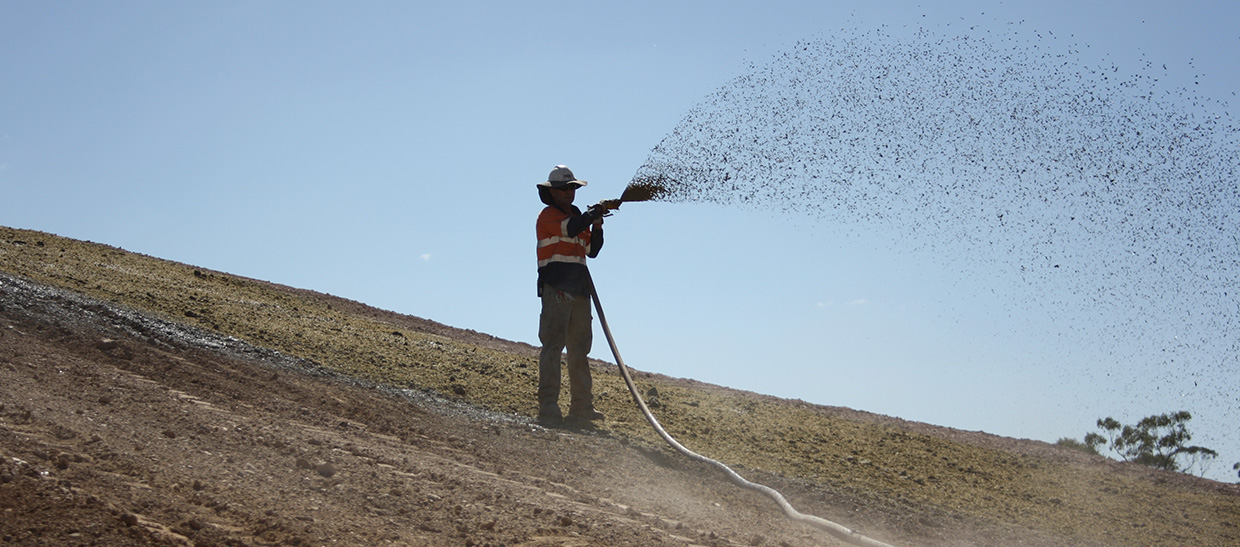 Australian-grown revegetation solutions
From humble beginnings and through the challenges of the early years, EnviroStraw has developed unique products and services that are setting a new standard in the Hydromulch industry. Our Australian-owned and operated small business proudly supports Australian jobs and communities through our locally made products.
If you're looking for high-quality, proven revegetation solutions from an Australian-owned and operated company, then get in touch with the Hydromulch experts at EnviroStraw on 1300 868 669 or sales@envirostraw.com.au