Maules Creek, NSW
Railway Site Revegetation
The challenge
Severely eroded batter at a railway track at the Maules Creek mine site was in dire need of reclamation to prevent further damage and decomposition. Soil analysis reflected very high pH (9.7), high sodicity, low carbon and excess calcium, all typical conditions of damaged and vulnerable soils. The low nitrogen, magnesium, potassium and very high copper of this substrate were all signs of low fertility and nutrient imbalanced soil.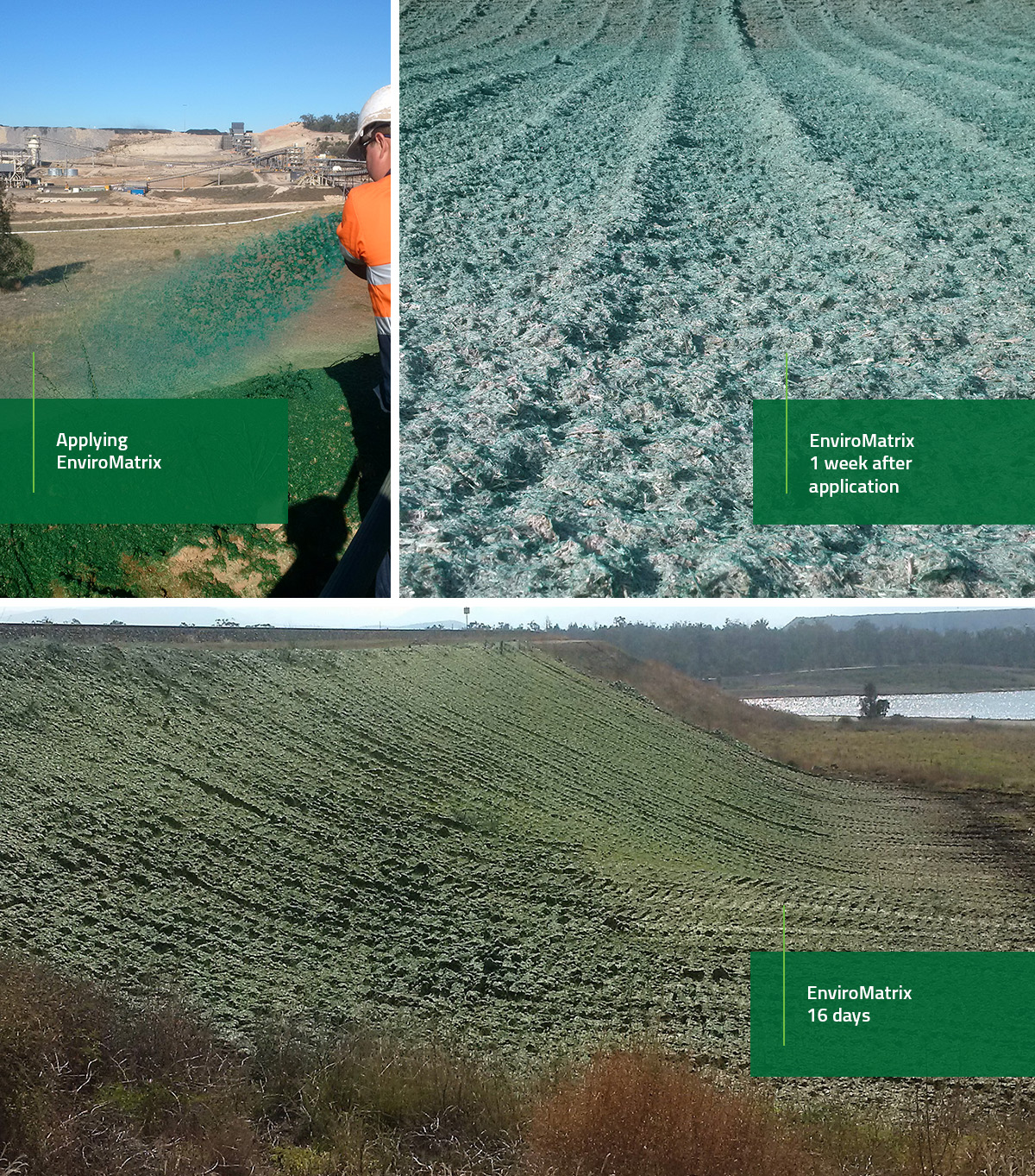 The solution
The severely compromised condition of the soil at this site required a well thought out approach. Soil tests were conducted to ascertain the health of the soil. The surface was horizontally track rolled to prepare and increase the surface area to allow for maximum water retention and root establishment.
10 tonnes of the ETRS was applied in three passes to ensure even distribution.
The site was irrigated to ensure rapid seed germination and establishment.
The results
ETRS provided a straightforward, cost effective and timely solution to reclaim the very challenging site at Maules Creek. Germination established one week after application with no rain events. Six weeks on, almost 100 per cent groundcover was achieved, effectively stabilising the site.
Soil tests were conducted at the site at the beginning of the project and 6 weeks after the application of the EnviroMatrix system.
Based on the samples taken, the following changes were noted:
Organic carbon increased approximately 217%
Dispersion Index decreased 31%
Soil bulk density decreased 26%
Plant available sodium decreased just over 61%;
Plant available potassium increased by almost 8%
Plant available magnesium increased just over 290%
Plant available calcium decreased by 33%; and
pH decreased over 7%.