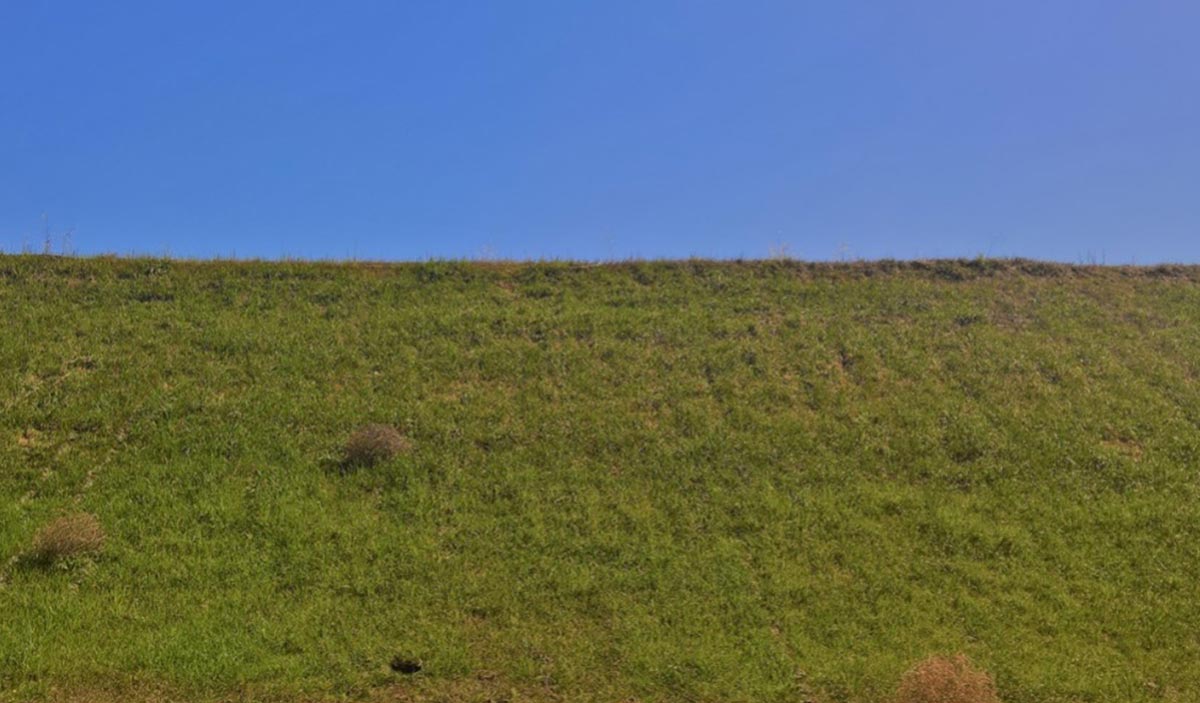 You may have recently heard of 'regenerative agriculture' (made famous by US soil-health pioneer Gabe Brown in his book Dirt to Soil), and it's starting to get the attention it deserves more broadly and gain traction across agriculture.
Essentially, regenerative agriculture is about caring for our soil crops and animals using self-sustaining methods.
Farmers are learning that if they take care of their soil in a more natural way, they can build healthy, robust, low-maintenance pastures and crops.
While this is a fantastic development, bringing disturbed soils back to life and controlling erosion in a natural, self-sustaining way is more challenging in the civil construction and mining industries.
EnviroStraw's microbial carbon regenerative revegetation program, BioGrowth, was developed over eight years to revive even the most ravaged soils depleted by earthworks and mining activity.
BioGrowth programs holistically build on conventional rehabilitation practices by rejuvenating depleted soils and increasing soil carbon .
To achieve optimal outcomes in as short a time as possible, we use cutting edge soil science and advanced regenerative management practices to enhance microbial activity in the soil – ie create healthy Living Soils. If we get this right, our carefully selected mix of beneficial bacteria and microbes can do incredible things!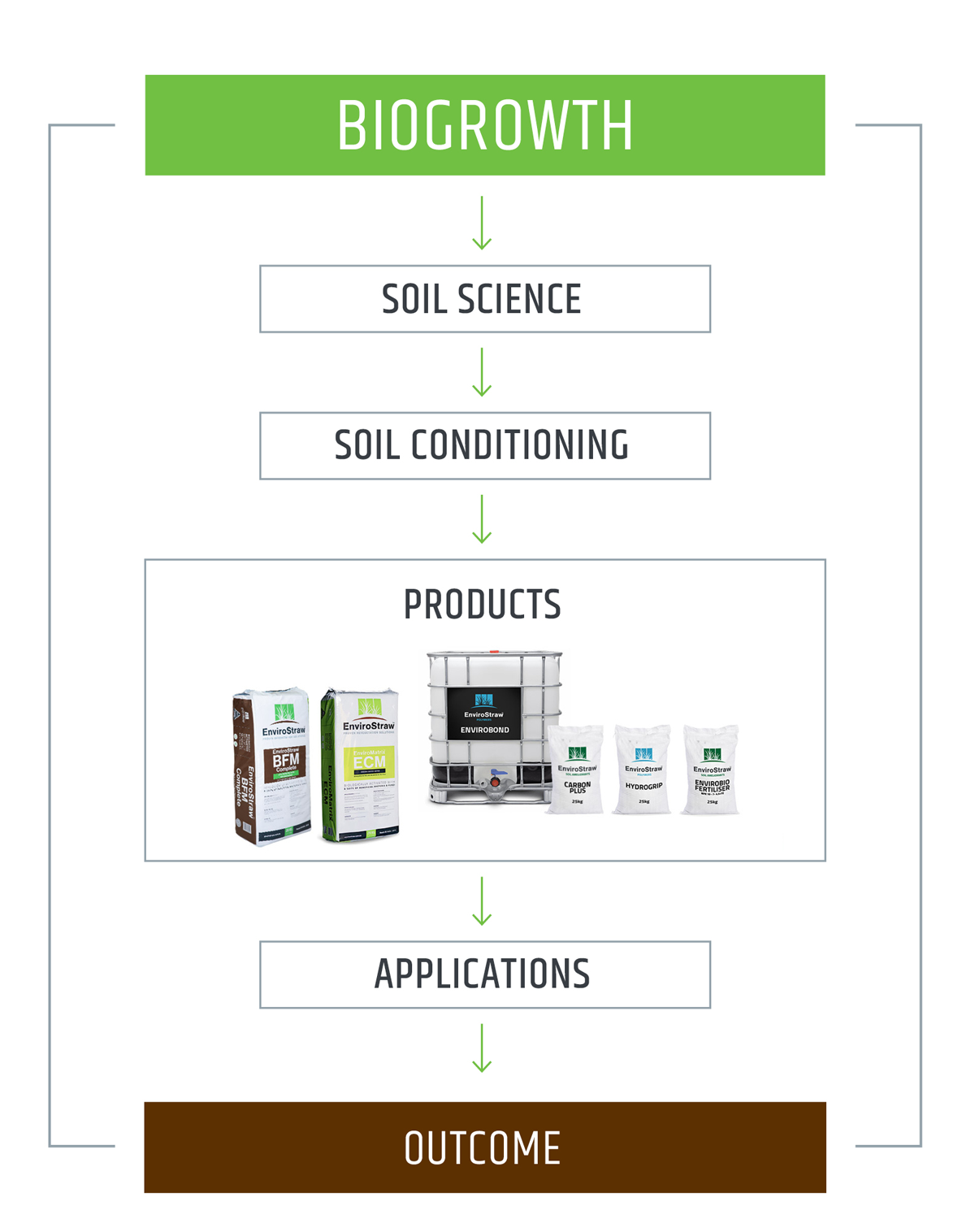 The 5 main goals of soil regeneration
Immediately control erosion on the soil's surface
Minimise water run-off while optimising moisture penetration
Condition soil to mimic natural ecological process
Ensure effective cover crop establishment
Allow the cover crop to naturally give way to pasture grasses, native grasses, trees and shrubs in the shortest possible time frame.
Why customers choose BioGrowth
It's cost-effective
The BioGrowth program is easy to implement and reduces overall project costs because it uses the principles of regenerative agriculture and does not require the volume-based application of traditional techniques involving topsoil and/or compost. This new way of thinking using regenerative management practices saves time, money, fuel and resources.
It's sustainable
Soil loss due to disturbance and development is a major biodiversity problem worldwide, threatening biological function and wildlife habitat, particularly in Eco-sensitive areas. With BioGrowth programs, topsoil and compost may not be required when a suitable subsoil is available. The practice of moving topsoil from point A to restore point B creates a bigger problem. Compost can be considered sustainable, but great care needs to be taken in its development to prevent the spread of weed species and excess soluble nutrients. Also, the transport of both topsoil and compost can have a large Carbon footprint. Water-soluble fertiliser is not part of our program, and this has the effect of protecting our delicate waterways and environment from nutrient leaching.
It saves water
Non-watering options are available to BioGrowth users. This means the hydromulch layer will protect the soil surface and seeds for up to 12 months. During the application process, clients can potentially save around 42,000 litres of water per hectare due to increased mix rates and improved coverage areas.
It encourages native plant growth
The BioGrowth program has the potential to establish native vegetation in under six months if climatic conditions are favourable.
It's been independently testedIt's Australian made
EnviroStraw products are manufactured in rural Australia using Australian renewable resources. This supports our farmers and our rural communities.
All EnviroStraw programs and products are vigorously tested in independent laboratories and universities.
How effective is BioGrowth at reviving challenging soils?
The table below – a snapshot of a trial we performed at the Maule Creek Mine site in New South Wales – demonstrates the power of the BioGrowth program to balance and remediate challenging soils.After a soil analysis was conducted, the soil lab recommended 28 tons of gypsum and 2.8 tons of magnesium oxide to adjust the pH (9.7), balance the calcium-magnesium ratios and reduce sodium levels.The EnviroStraw program we devised was simple: reshape the batter, prepare a suitable seedbed and apply the EnviroMatrix Erosion Control Matrix and Biotic Growth Amendment at a rate of 10 tons to the hectare (note no gypsum or magnesium oxide was applied). In the series of photographs below, you can see how the results and positive outcomes speak for themselves.
Based on BioGrowth MMM (Measure, Monitor and Manage) Soil Science and lab testing – significant Improvements were noted in the soil: