Water efficiency is critical on construction and mine sites, especially in remote and dry areas of Australia, and EnviroStraw has proven revegetation solutions that transform any soils using up to 40% less water than conventional products!
Water efficiency and your project
Targeting the best possible Water Use Efficiency (WUE) result on any project is a key goal for project designers and construction managers on large sites across Australia. But our harsh climate can make this very difficult to achieve as we face changing climatic conditions and longer periods of hot and dry weather.
There is also the impact on the environment to consider especially if water is needed to be withdrawn from local rivers and streams for a revegetation project. Costs increase while the surrounding ecology and aquatic wildlife can suffer.
Water savings with EnviroStraw
There are many benefits to using EnviroStraw's innovative products and programs to quickly and sustainably revegetate any site. But one of the standout features of EnviroStraw's soil science technology is the water savings.
This high level of water efficiency results in significant cost savings by reducing the need for ongoing maintenance and watering and lowering the risk of needing any expensive reworks. These water savings are also beneficial for the environment not only because you're using less of this precious resource, but a reduced reliance on watering systems also means that there's less degradation of the soil and greater erosion control.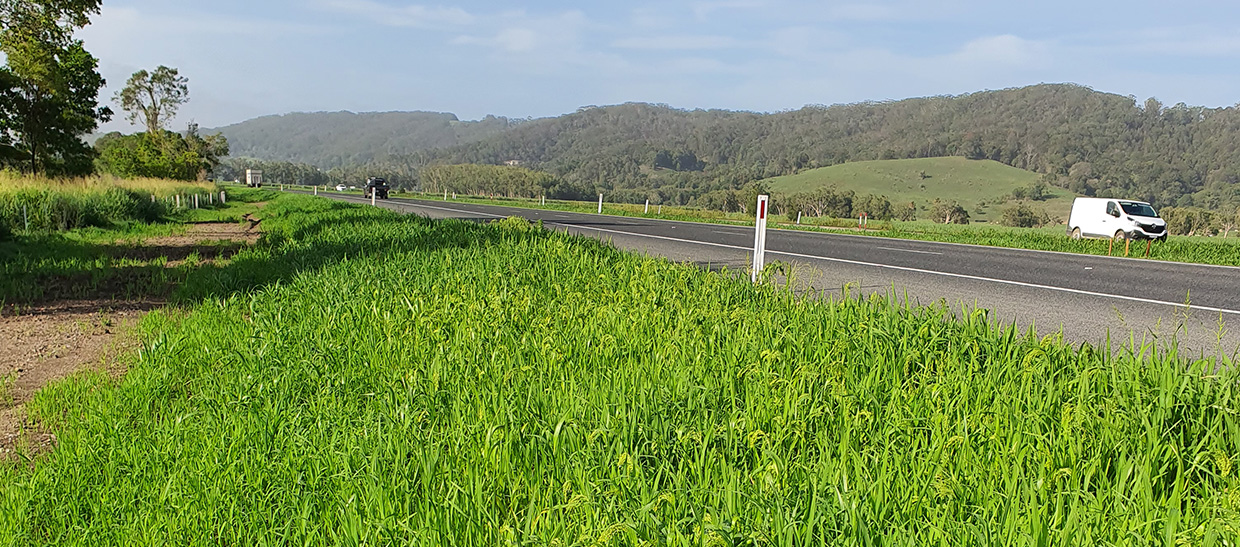 World-first technology that works
Working with Australia's leading soil scientists, EnviroStraw has developed products and programs that are proven and tested to use significantly less water during the application process compared to our competitors. Our low water usage solutions using our Hydromulch products can be tailored to the specific needs of each site.
We've also developed non-watering options that are delivered by including our EnviroBond Polymer which is a unique, high performance liquid soil binder. Then you can just sit back and wait for Mother Nature to provide the water for free which could save hundreds of thousands of dollars in watering costs on a large scale project! Here we explain how these ground-breaking solutions work.
Low water usage
EnviroStraw's BioGrowth™ is a world first system that blends fertilisers and a long term control release nitrogen source with 22 specially selected microbes. This works to naturally and rapidly build up the levels of carbon and nutrients in the soil, increasing microbial activity which in turn enables an optimum level of water infiltration and moisture retention.
When combined with EnviroStraw's range of specially designed Hydromulch products and applied to a site, the results are astounding. EnviroStraw Hydromulch products require up to 40% less water than conventional mulch products. As an example, using EnviroStraw Hydromulch will save 42,000 litres of water per hectare compared to using a standard sugar cane paper blend hydromulch product. And you'll save more than 30,000 litres of water by using EnviroStraw Hydromulch compared to using a conventional wood fibre mulch.
Using the EnviroStraw Hydromulch programs substantially reduces the cost of running water trucks on site to fill the hydromulching machinery. This improves on site efficiencies with each tank of hydromulch covering more area per tank load compared to conventional products. It all adds up to significant cost and water savings for site managers.
Non-watering option
Often revegetation projects can be high maintenance requiring ongoing watering systems which can be very expensive when a site is located in a hot, dry climate. Trying to keep up with the watering requirements of the establishing vegetation and prevent it dying off can be an impossible task.
EnviroStraw has a non-watering option that's easy to implement and costs cents on the dollar compared to a traditional watering program. Our special liquid soil binder, EnviroBond Polymer, creates a 3D honeycomb shaped matrix in the topsoil layers which can penetrate and bind any soil type, even sand. This protects nutrients and seeds and retains water, holding the soil and EnviroStraw Hydromulch layer in place for up to 12 months or longer while waiting for natural rain events to occur.
Some of the benefits of EnviroBond Polymer include:
No water required via water trucks saving you money
Natural rain events germinate the grass seed free of charge
Improved stability of the Hydromulch layer
Significantly reduces the risk of erosion
Protects the grass seed and holds it in place
Enhances germination
Improves water penetration into the soil
Improves the water holding capacity of the soil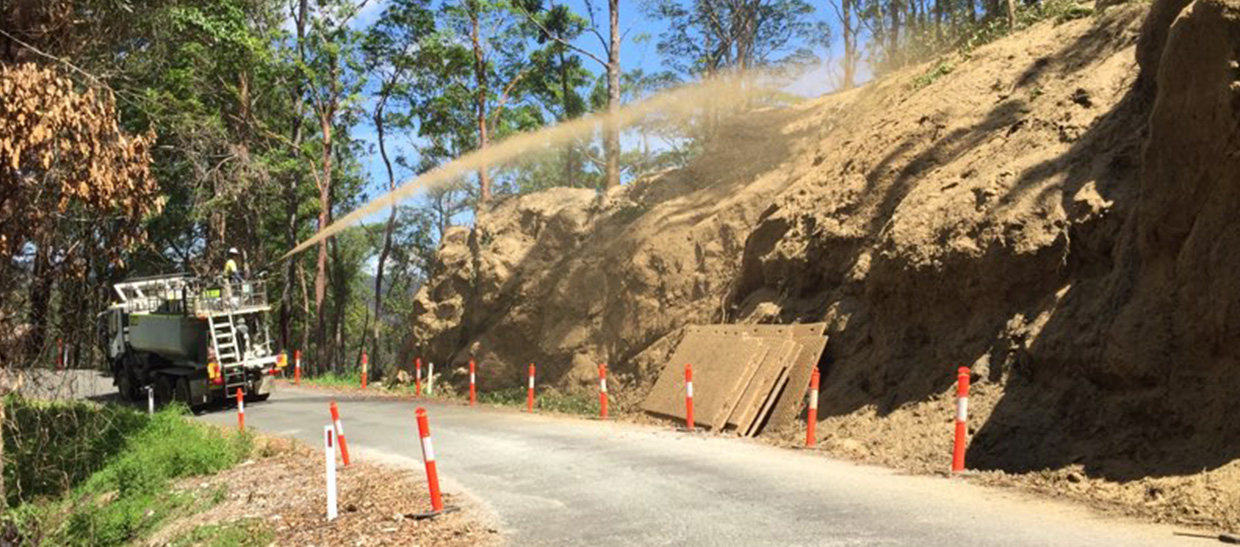 Increased water efficiency through tailored revegetation solutions
If you're looking for low water usage or non watering options for a construction or mine site rehabilitation project, then contact the team at EnviroStraw on 1300 868 669 and sales@envirostraw.com.au to find out more about our proven revegetation solutions.