Sunshine Coast, QLD
Rock Batter
The challenge
To revegetate a relatively steep, broken, sandstone-based rock batter that faces south-west without subsoil amelioration, topsoil placement and/or compost.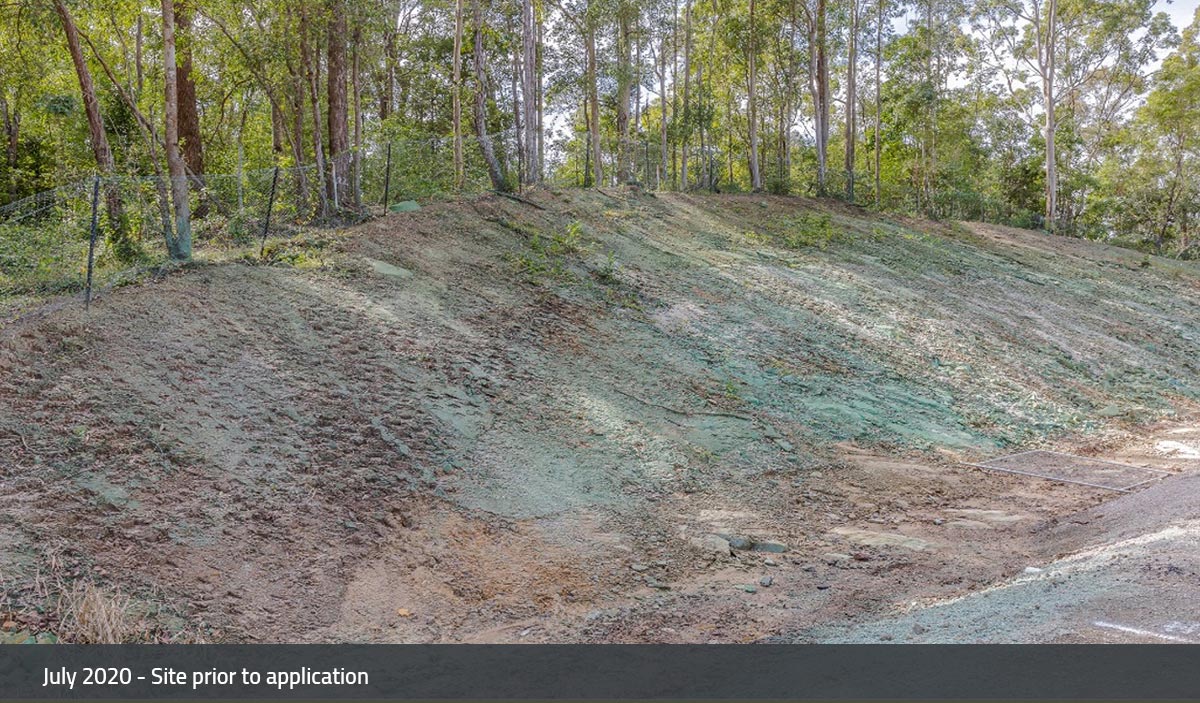 This particular rock batter has a shaded aspect and had previously been treated with a soil sealing erosion-control polymer. It's possible that this hindered water penetration into the subsoil.

The brief involved utilising BioGrowth™ EnviroMatrix®ECM Biotic Soil Amendment hydromulch + EnviroBond storm guard polymer to accomplish the near-impossible task of immediate and long-term erosion control. 
We needed vegetation to establish effectively in the midst of wetter-than-average tropical rainfall conditions in such a way that would require minimal maintenance ongoing. 

The solution
To protect the surface soil, our team applied BioGrowth™ EnviroMatrix®ECM Biotic Soil Amendment hydromulch at a rate of 10 tons per hectare as a growth media (no topsoil or compost were applied) and EnviroBond at a rate of 400 litres per hectare.
This was intended to provide immediate and medium-term soil erosion control while allowing vegetation to establish effectively and provide long term soil-erosion control.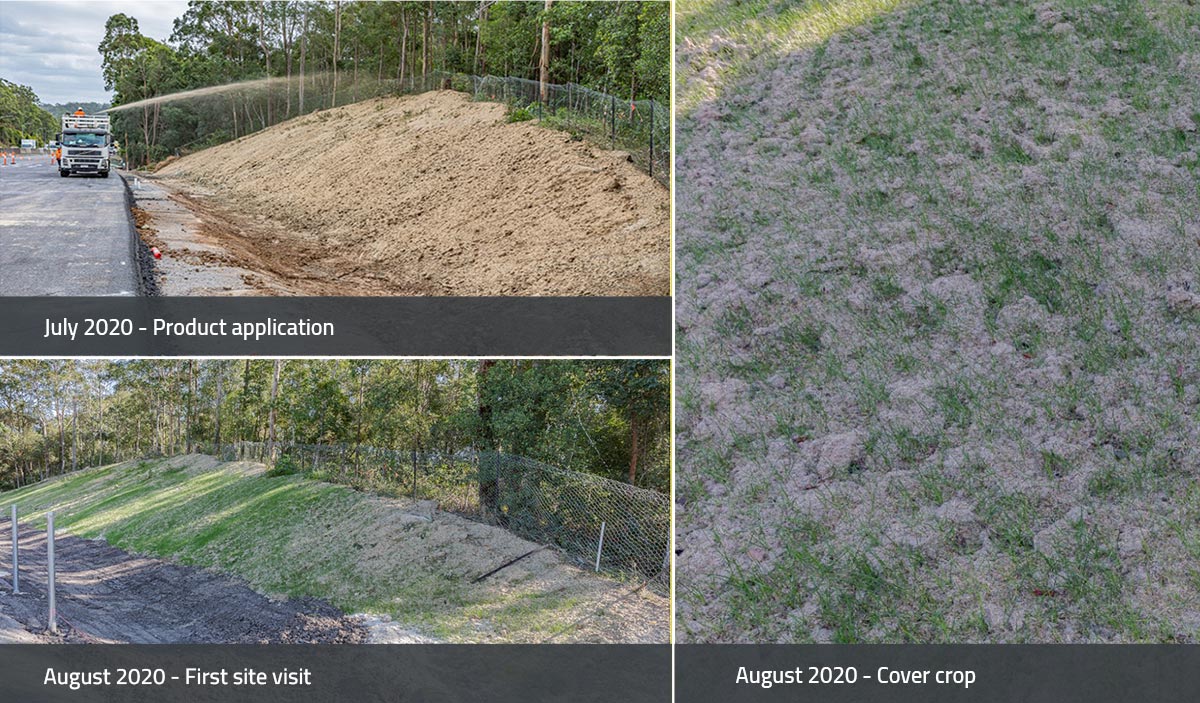 The results
The first site visit a month after application revealed that the cover crop had struck, but at much lower rates compared with similar sites. Our team deduced this could be due to the area being in shade and because of the negative effect the previously applied erosion-control polymer may have had on the soil.
Just a couple of weeks later, we visited again and saw that the cover crop was continuing to grow, but was showing signs of nutrient and water-induced stress. Our assessment two months after that showed that even with sufficient rainfall, the cover crop species wasn't growing as effectively as we'd seen on so many other, very similar sites.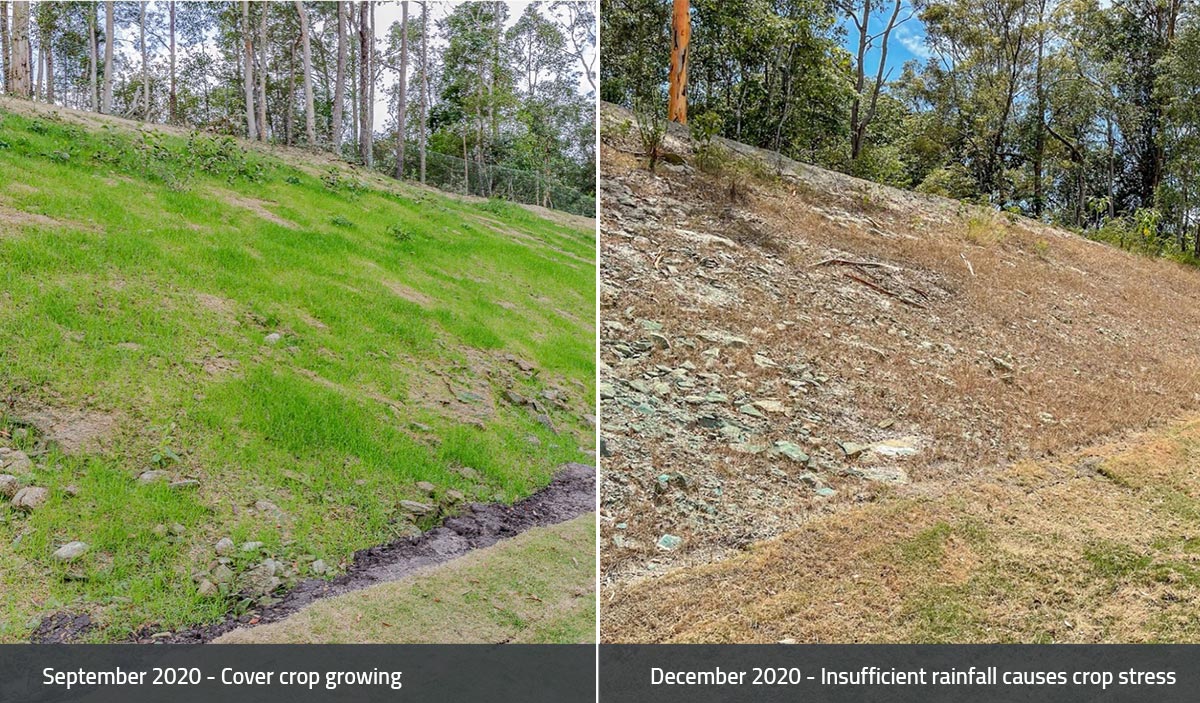 The overall above-ground biomass production was well below optimum, which may have induced a delayed revegetation recovery process over the short-to-medium term. The colour of the crop cover also indicated some mineral imbalances (possibly caused by the previously applied polymer).
At the 10-month mark, things were looking up. Signs of secondary vegetation species establishment could be seen, although a relatively large percentage of the surface area was still not well covered. Further monitoring will be required to confirm that appropriate vegetation establishment has been achieved over time.