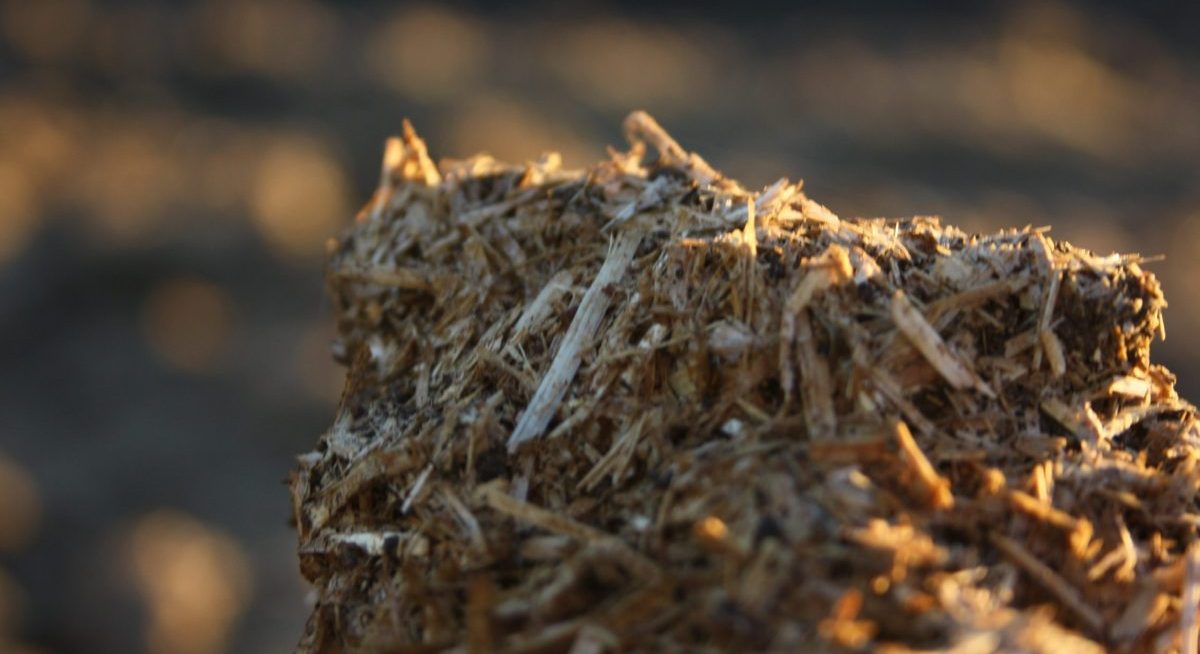 Restoring and maintaining grass and soil quality is imperative for projects in the infrastructure, construction and mining industries – hence the popularity of hydroseeding and hydromulch products. 
While minor at a glance, the difference between these two solutions can have a significant impact on uptake speed and grass quality on site. 
Are you considering investing in a grass treatment? Do you want to find out more about each application process and which one will work best for you? Read on for insights rooted in soil science.   
What is hydroseeding?
Hydroseeding is the hydraulic application of a mixture of seed, water, fertiliser and tracer dye sprayed on top of topsoil through a cannon or hose from a machine called a hydromulcher. 
Hydroseeding mixtures contain a blend of seeds (cover crop, pasture species and natives), along with fertiliser and a binder/tackifier that acts as a glue to hold the seed in place and minimise the effects of erosion from wind and rain. 
This type of solution is suitable for flatter surfaces up to 1V on 4H with a healthy topsoil layer and an irrigation program already in place. 
What is hydromulching?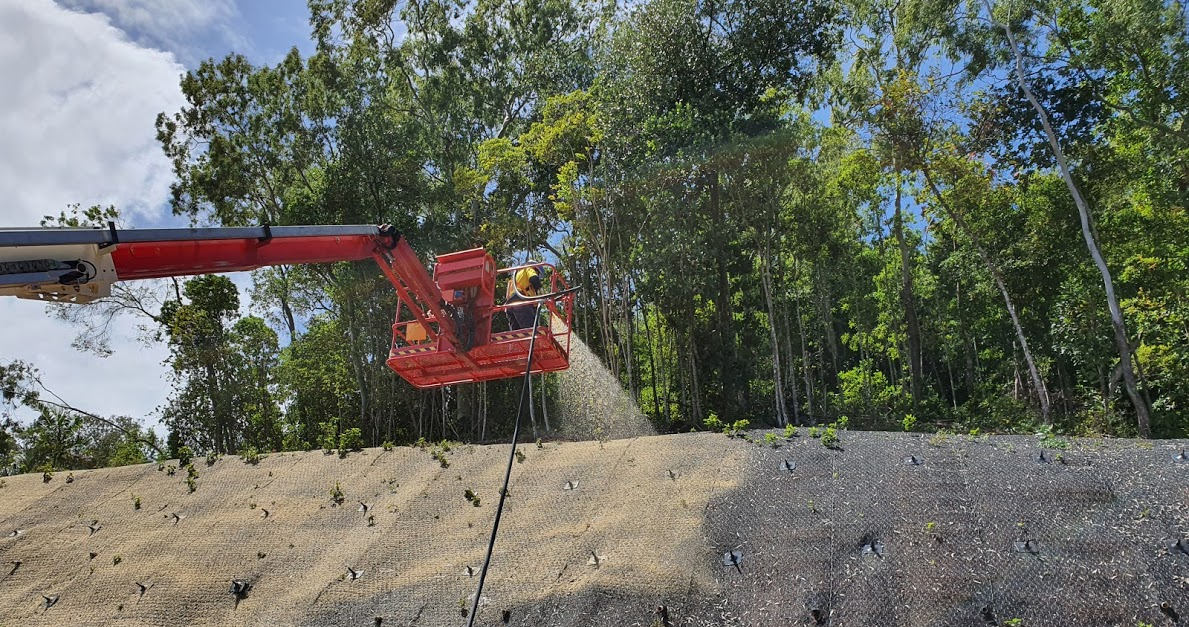 Hydromulching describes the hydraulic application of a slurry containing mulch, tackifier, fertiliser, water and seeds onto open or disturbed ground and on steep slopes. This type of soil solution was developed by soil scientists to improve soil quality and increase plant growth rates. 
There are many advantages to using hydromulch over hydroseeding: 
Suitable for most areas
Hydromulch can be used on all typographies, including very steep slopes and uneven surfaces. Hydroseeding, by comparison, is generally ineffective on slopes as it leaves the seeds more susceptible to water runoff and erosion. However, hydroseeding can be used to vegetate stockpiles,  mounds and other non-critical areas. 
Minimises erosion and exposure
Unlike the hydromulching process, hydroseeding leaves plant seeds exposed to the environment. As a result, hydroseeding projects rely on a well prepared seedbed, a healthy topsoil layer and a strong watering program to survive. By adding a layer of mulch with newly applied seed prior to watering, the hydromulching process also minimises evaporation, erosion and exposure to pests such as birds. 
Which hydromulch products are best?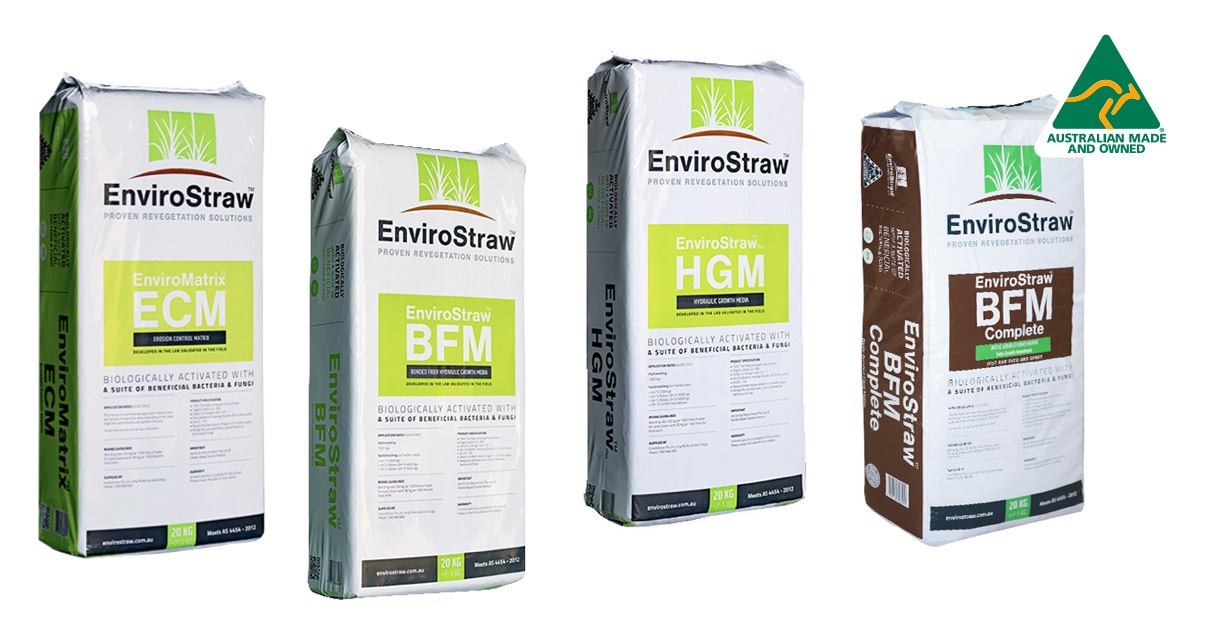 EnviroStraw has a range of hydromulch products for various applications, including our hero product, EnviroMatrix ECM – an advanced hydraulically applied biotic growth media designed for extreme conditions and slope degrees. Developed by Australia's leading soil scientists, microbiologists and erosion control specialists, EnviroStraw's five-strong hydromulch range has been specially formulated to deliver serious growth on highly disturbed soil. 
BFMs (Bonded Fibre Matrix)
EnviroStraw BFM is designed to control erosion and to stabilise and restore vegetation on disturbed soil sites, including slopes up to 1V on 2H. Manufactured from annually renewable, biodegradable Australian materials, it consists of heat and mechanically treated cereal straw, cellulose and wood fibres. The combination of the fibres and cross-linked, high strength polymer binders facilitate effective erosion prevention and vegetation establishment, while the product's improved water use efficiency (WUE) reduces the water volume required in application by up to 50%.
ECM Erosion Control Matrix FGMs (Flexible Growth Mediums)
Our advanced Erosion control matrix includes an advanced polymer system with added long strand plant-based interlocking fibres that are designed to provide increased sheer stress and water holding on extreme steep slopes or in vegetated drains and high-rainfall areas. 
BGAs (Biotic Growth Amendments)
The latest innovation in Hydromulch, BGAs are designed to treat areas where topsoil is scarce or problematic and address the biological, chemical and physical requirements for erosion control and revegetation. Our all-in-one BGAs include EnviroMatrix (ECM), which is suitable for all sites owing to its natural long strand interlocking fibres, and the newly introduced BFM Complete with added binders. ECM also includes a diverse range of carefully selected strains of beneficial bacteria and fungi, with included bio-stimulants and other carbon building inputs. As a water efficient, cost-saving solution, ECM is ideal for use on depleted construction sites and extreme slopes. 
Try EnviroStraw's hydromulch solutions today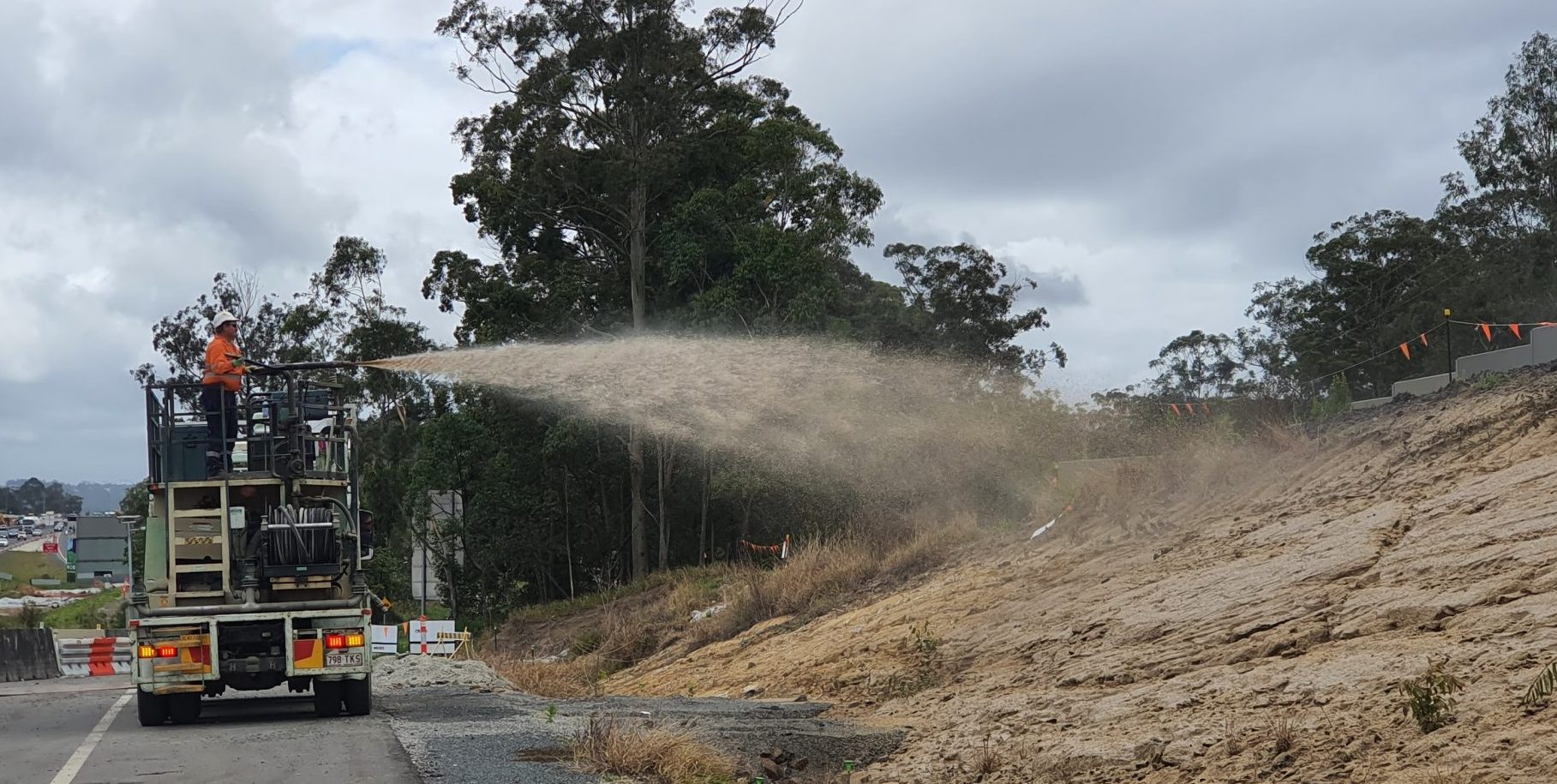 The real secret to growing more grass in less time is two-fold, often requiring an in-depth understanding of soil science for a holistic solution. When you need more than a surface solution, you can trust in the science behind EnviroStraw's product range. 
Are you ready to put our soil-conditioning options to the test? Fill out the form below and our soil scientists will be in touch or click here to find out more about our hydromulch product range.