Summer is a time when revegetating development locations and mine sites becomes even more challenging as we face extreme weather events such as drought, storms and fire. EnviroStraw developed its hero spray grass Hydromulch products to revegetate soils in some of the harshest conditions in the world. Every location has its unique demands which is why the range includes three solutions to ensure vegetation is established quickly, sustainably and cost-effectively no matter how depleted the soil or how steep the site.
What is Hydromulch?
Hydromulch is a special combination of mechanically and thermally processed plan fibres seed, fertilizer and binders (also called 'tackifiers') which is sprayed with water on soil to establish grass and other vegetation. The hydraulic method is much more cost-effective than traditional planting techniques and is also sometimes called spray-on grass or spray grass. The process is similar to Hydroseeding but with the important addition of mulch.
Conventional planting methods just won't work on steep, sometimes inaccessible sites containing highly disturbed soils. Spraying Hydromulch onto commercial and infrastructure development locations and mine sites enables coverage of large areas, protects the seeds underneath, retains moisture and prevents erosion.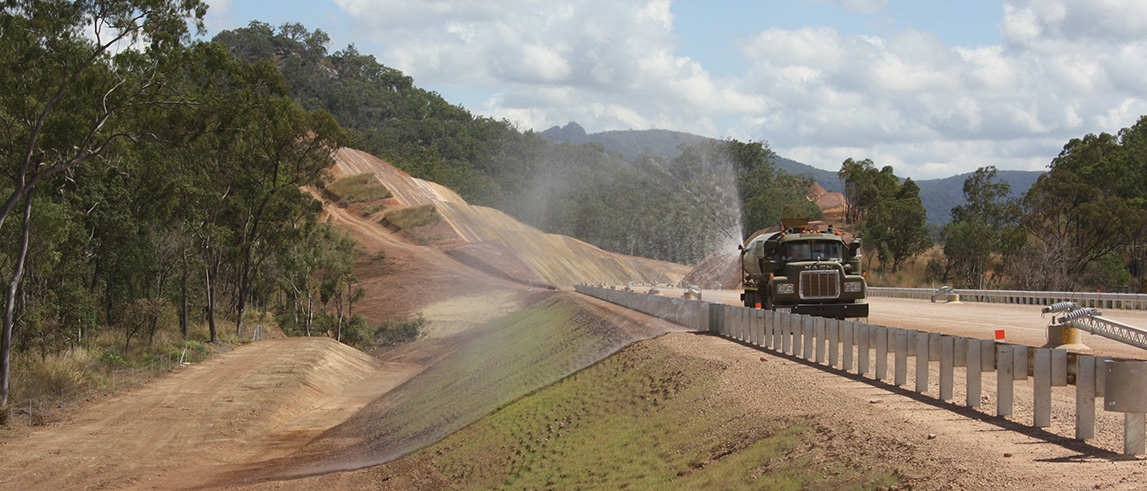 What makes EnviroStraw Hydromulch special compared to other spray grass products?
EnviroStraw teamed with leading global soil scientists to carefully develop the Hydromulch range using only quality, sustainable ingredients that are proven to work even in the harshest conditions. Our products are Australian-owned and manufactured.
Recycled paper, wood fibre, straw and other natural plant fibres are used. These important mulch fibres, combined with our purpose designed suite of bacteria, funghi and biostimulants, improve soil health, quickly enhancing vegetation establishment in a natural way. The fibres are mechanically and thermally processed to ensure they are free from seeds and other pathogens.
A wide range of seeds from pasture grasses, native grasses, trees and shrubs can be included in the hydromulch process. Specially-developed fertilisers or soil biostimulants are also added to improve nutrient levels, enhance the establishment of vegetation and ensure overall soil health.
This mix of built-in nutrients leads to self-sustaining growth. It also works faster and with less water than standard hydromulch or spray grass.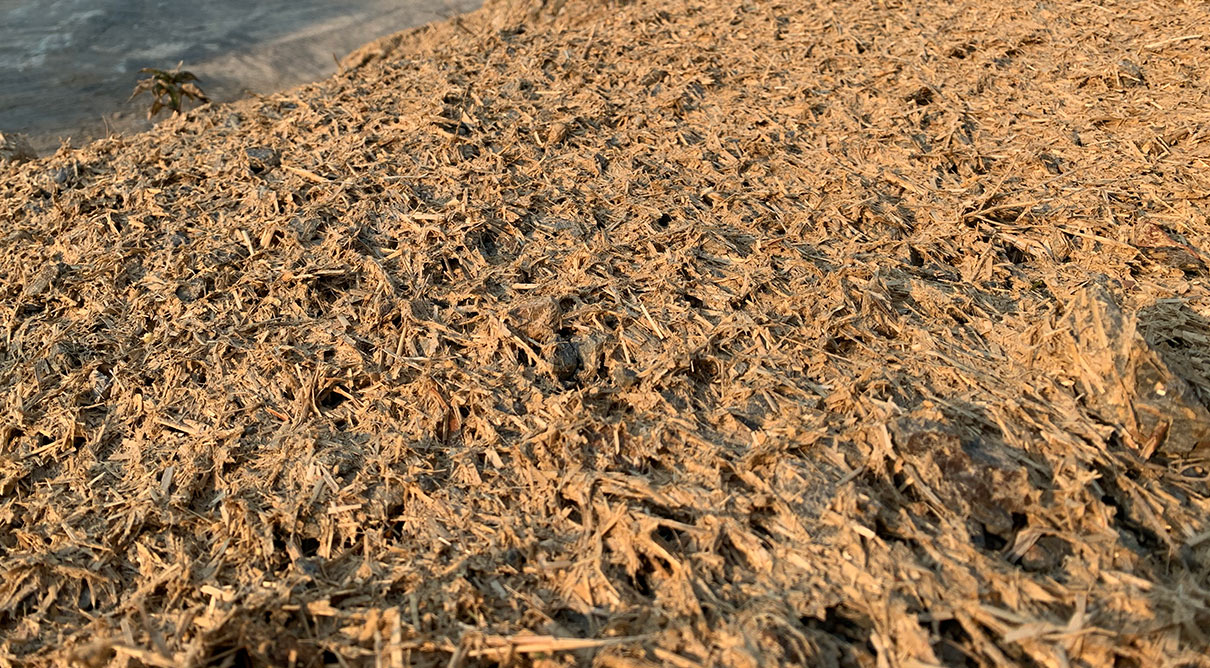 How is Hydromulch applied?
The application of Hydromulch is a cost-effective, quick hydraulic process.
A special mechanical agitation technique, using large pumps, sprays thick slurries of hydromulch evenly over large and difficult to reach areas.
Machinery can vary in size from a 1,000 litre tank to a 14,000 litre tank. The largest application equipment can reach distances of up to 100 metres. This means steep slope areas can be covered quickly and safely, including railway batters, road-side batters, and mine site tailings dumps.
EnviroStraw's hydraulically-applied products are installed in a one-step process that's up to three times faster and uses one-third of the manpower compared to other products that require a two-step application.
What are the benefits of using EnviroStraw's Hydromulch products?
Whether you have a large commercial development project in need of revegetation management or a mine site ready for rehabilitation, there are many benefits to using EnviroStraw's Hydromulch products.
We're committed to project outcomesand sustainability and some of the advantages of our range include:
Creating strong drought resistant plants
Faster application using less water than standard hydromulch or spray grass
Weed, pest and pathogen free
Built-in nutrients ensuring sustainable growth
Won't pollute waterways
Proven to work in the harshest conditions
Australian owned and manufactured
Environmentally-friendly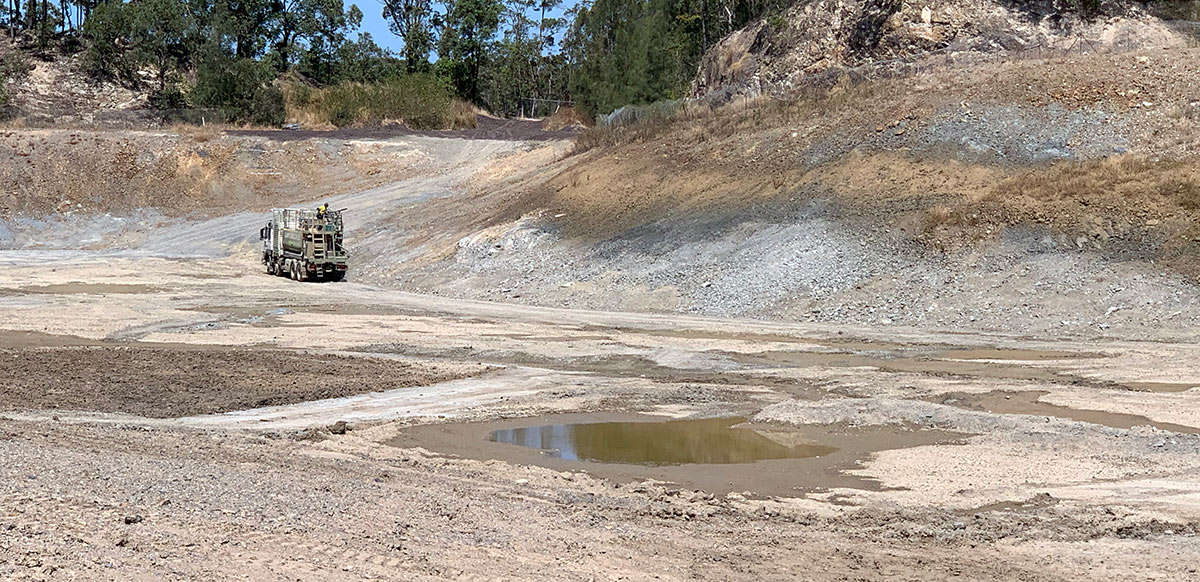 Choosing the right Hydromulch product for your site
When it comes to hydromulch and spray grass products, it's definitely a case of 'one size does NOT fit all'. The product should be determined by the unique features of the site.
Each EnviroStraw Hydromulch product is designed to enhance vegetation establishment for areas with different challenges.
EnviroStraw HGM – Hydraulic Growth Media
A hydromulch that includes a biotic soil amendment and our agronomically designed soil conditioner, providing the perfect environment for establishing vegetation. EnviroStraw Hydraulic Growth media is recommended for use on commercial and development sites, highway and road projects and golf courses and sports fields. Details can be found here.
EnviroStraw HGM–BFM – Hydraulic Growth Media + Bonded Fibre Matrix
This Hydromulch has added binders for strong soil adhesion and erosion prevention and is designed for steeper slopes. The product is biologically activated with 22 different species of soil enhancing bacteria and mycorrhizae fungi. It's ideal for mine sites, oil and natural gas field revegetation, military installations, commercial and residential developments and railway and roadside batters. Here's a link to more benefits.
EnviroStraw Matrix  – Erosion Control Matrix
Erosion Control Matrix is specifically designed for highly problematic soils as it rebuilds carbon levels and improves overall soil health. It's suited to revegetating all areas including extreme slopes and sites in arid dryland climate zones and areas with high rainfall. This Hydromulch is ideal for fire and mine site reclamation, landfills, airports, road projects, sand dune stabilisation, mine site revegetation and railway batters. See how it works here.
Do you have a challenging commercial development site or mine site that needs revegetation? Contact the experts at EnviroStraw on 1300 868 669 to discuss your specific requirements.